Desperate times calls for 'quick hitters' for the Boise State Basketball team. If you don't know what a quick hitter is, it's creating quick & easy scoring chances while playing to your strengths. Whether it is against man-to-man or zone defenses, collegiate coaches have quick hitter plays in their back pocket for two reasons:
The team is down and needs a bucket as quick as possible.
Momentum shifter – As your team lead builds in a game, the coach decides to do a quick hitter to try and catch the defense off guard.
Take for example, Saturday night's matchup between Boise State & UNLV. With the Broncos down 68-74 with just under 3 minutes to go in regulation, Leon Rice called this quick hitter set that has worked all season. The results were in the Broncos favor.
Here's a breakdown: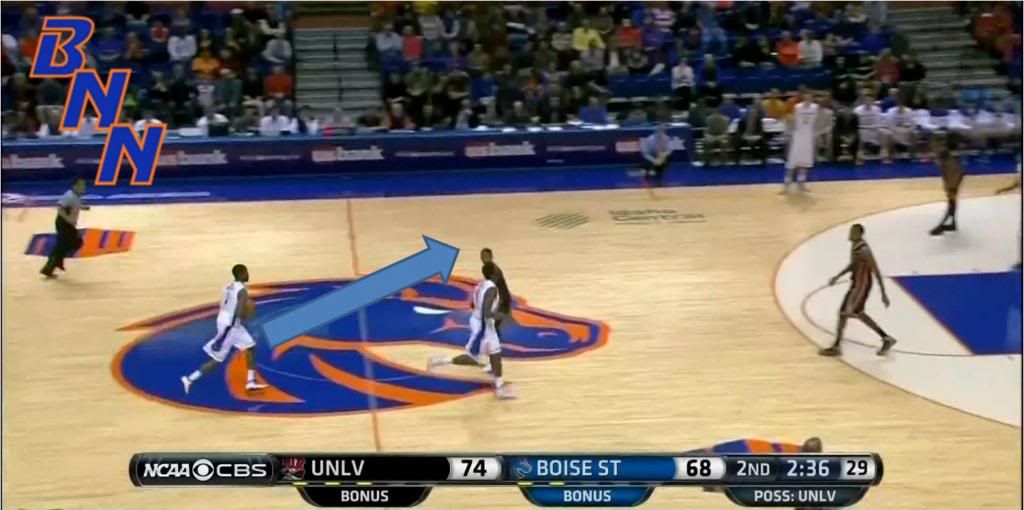 What you don't see before this screen shot was UNLV at the free throw line. Leon Rice knew exactly what he wanted out of this half court set. You will see Boise State G Mikey Thompson shading to the side of Anthony Drmic. Thomas Bropleh is the trailer.
Once Thompson shades to the side of Drmic, he passes the ball to Drmic well outside the 3-point line. Thompson goes corner
Drmic is immediately looking to switch sides of the basketball court to Bropleh
Bropleh comes up from the elbow to receive a pass from Drmic
Notice as the ball is in the air, Boise State's big man Ryan Watkins makes his way towards the elbow. What goes unnoticed is the amount of timing and practice this takes to perfect on the hardwood.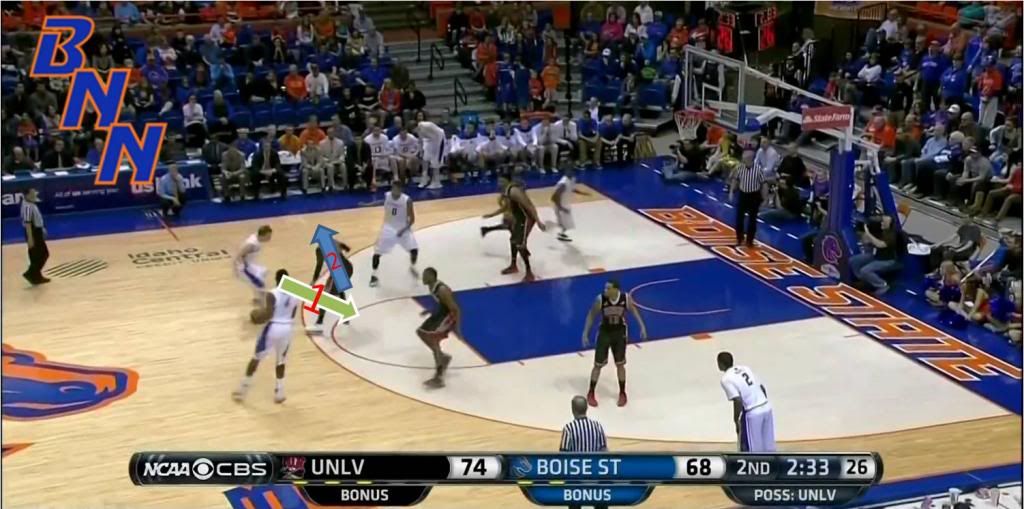 This aspect of the quick hitter is the most crucial part of this half court set. After Drmic had passed the ball to Bropleh, it is crucial that Drmic sells a counter.(Fake one way, go the other)
The first move is a ball side cut to the middle. If Drmic does not sell that fake, the play is not as efficient and Boise State doesn't get a good look at the basket.
The UNLV defender bit on Drmic's fake, which leads to Ryan Watkins coming setting a screen on Drmic's man.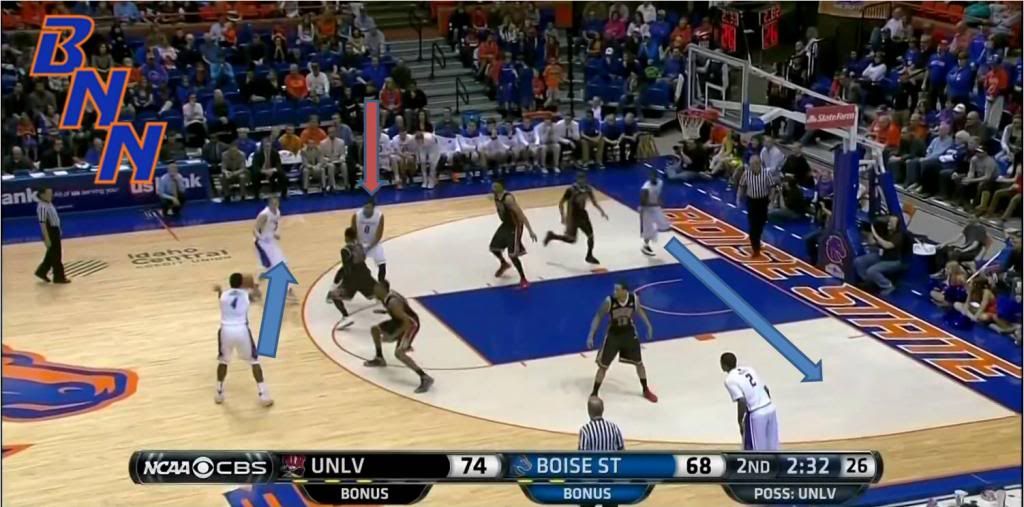 Drmic's fake cut in the middle helped him get a clean look at the basket. That fake is the split second  between Drmic recieving a clean look or having a contested shot. Boise State ran this to perfection. It comes down to a few elements when running this specific quick hitter:
Timing
Spacing
Drmic setting himself up for an open jumper
Ryan Watkins' screen
Here is the video(Credit www.theblueturf.com ) of Boise State's Quick Hitter Half Court Set:
Boise State also ran this similar half court set against Utah State earlier this season:
Comments